Spot-on article on the union of my two passions
by Dickson T. Wong for 1st Dibs 
The A-list designer shares his expertise on choosing authentic objects and displaying them with style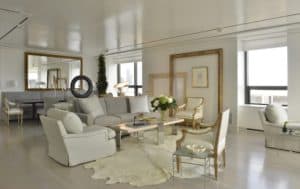 For several months each year, New York designer Vicente Wolf makes it a point to leave city life behind and go completely off the grid. "There is an extraordinary richness I feel when I travel to off-the-beaten-path places, such as Madagascar, Borneo, Papua New Guinea and Vietnam," says Wolf, who has spent decades exploring these Eastern locales and other far-flung regions around the world. "You have to step out of your daily experience."
He has also spent many years collecting treasures from these areas — including decorative objects, sculptures and artifacts — and a handful of them have made their way into his showroom, VW Home. Over time, he has developed an expert eye for those rare items that convey a unique sense of place and represent the culture they belong to.
"Traveling to these non-tourist destinations allows me to mix with the people of these cultures and discover the essence of the objects they've created," says Wolf. "There is something pure about their forms, techniques and materials that brings the spirit back to a place of calm."
Here, Wolf shares a few pearls of wisdom about spotting one-of-a-kind pieces in the Far East and beyond and blending them into your home.