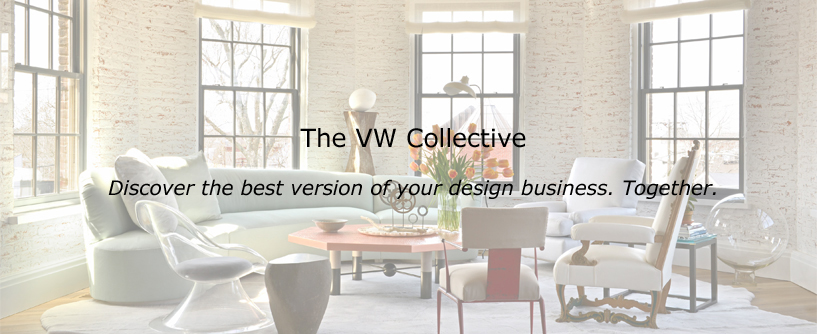 The VW Collective – Where Designers Will
Discover the best version of their design business. Together.
2 Powerful Leaders
60 Design Professionals
1 Impactful Weekly Conversation
Unlimited Topics and Chances to Reinvent Your Design Business
Launching Fall 2018
After forty years in the industry as an acclaimed interior designer as well as noted collector, author, lecturer, world traveler, spiritualist and photographer, Vicente Wolf has much to offer to fellow designers. Eager to share his experiences, analyze issues and develop solutions with like creative individuals, Vicente invites design professional to join with him on this learning adventure with him.
Embarking on this journey with Vicente is his long-time friend and associate, Sean Low. Sean, through his company, The Business of Being Creative, has spent the last nine years of his life working with designers and creative individuals on their businesses and has gained the benefit of insight into what it takes to be successful. Sean has and continues to run a similar member-driven group for event professionals, The BBC Collective (www.thebbccollective.com).
The VW COLLECTIVE is an innovative and interactive learning forum limited to 60 professionals. For a holistic examination of designers' own businesses and craft, coupled with self-nurturing concepts, designers are invited to join Sean and Vicente in this exploration. The VW COLLECTIVE is a powerful opportunity that will enhance the way designers sustain and bolster their creative souls, while at the same time lay the groundwork for their ultimate financial profitability.
Topics will address essential issues facing the group: funneling inspiration into reality, managing client relationships, pricing, using technology in design, timing of payments, getting the most out of staff and structuring client agreements, just to name a few. Weekly teleconference meetings on Wednesdays at Noon are with Vicente and/or Sean and/or a noted guest speaker (industry leader, editor, etc.) will be posted on the website. In addition, members are encouraged to engage in meaningful ongoing conversations via a closed Facebook group and will have the opportunity for a private quarterly call with either Vicente or Sean.
With a limit of 60 individuals, The VW COLLECTIVE will have weekly calls on Tuesdays at 12:00 Noon. Vicente and/or Sean and/or a guest lecturer will host the 60-90 minute recorded teleconference. To sign up for The VW COLLECTIVE, visit TheVW COLLECTIVE.com. Once designers sign on, Vicente Wolf will arrange for a personal and intimate conversation with each new member to understand their personal path and business goals.
For more information contact Sean Low at sean@thebusinessofbeingcreative.com